POWER BANK USAGE HAS BEEN INCREASED FROM THE PAST RECENT YEAR. BUT PEOPLE ARE IN A STATE OF DILEMMA IN OPTING THE BEST POWER BANK. SO, TAKE A PEEK THE BELOW ANALYSIS TO GETTING STOP OF YOUR DILEMMA.
SO,BEFORE BUYING A POWER BANK WE SHOULD MAINLY FOCUSED ON
1) POWER BANK CAPACITY(mah).
2) DOES IT SUPPORT FOR FAST CHARGING.
3) POWER BANK INPUT.
4) USB PORTS.
5) SECURITY/PROTECTION.
1) POWER BANK CAPACITY(mah).
The power bank capacity should be atleast of 2 to 3 times of your mobile capacity. For example:- if your mobile has a 3000mah battery then Power bank should be atleast of 9000-10000 mah capacity.
Because, by using that 10000 mah powerbank you may charge 2-3 times from 0 to 100. Because, While charging IN AND OUT there will be definitely ENERGY CONVERSION LOSSES.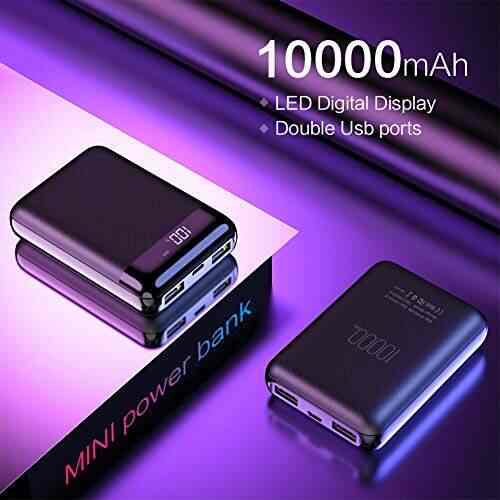 2) DOES IT SUPPORT FOR FAST CHARGING.
Second thing is FAST CHARGING if the mobile support fast charging then you should definitely opt the powerbank which support fast charging.
If the output voltages of power bank is 5 Volt/2 Ampere , then POWER BANK will not supports for fast charging .
If output voltage is 9 Volt/12 Volts it will supports fast charging.
So, if mobile support for fast charging then it's better to opt power bank which supports for fast charging (9V/12V).
3) POWER BANK INPUT.
It's not only matters charging your phone through the power bank but it also matter to give a charge to powerbank.
It's not easy to charge a power bank having capacity of 10000 mah. So, if the power bank has a fast charging input ,as previously said (9Volts/12Volts-INPUT). Then that's gonna be a perfect choice.
4) USB PORTS.
4th Thing is USB ports , you should have a idea on how many ports should be on a power bank .
If you have many phones to charge then the power bank should consist of two to three ports and the thing should be kept in mind while charging your mobile phones using the two ports simultaneously the output voltage should be distributed between both the ports .So, there might be a chance in decreasing the speed of charge.
5) SECURITY/PROTECTION.
The last thing is Security/Protection the brands which are offering now a days were coming with 4-WAY PROTECTION.
OVER CHARGING
OVER VOLTAGE
SHORT CIRCUIT
EXCESSIVE TEMPERATURE
On your daily basis you carry your powerbank to your workbase. The powerbank consist of LITHIUM BATTERY So, there might be a chance of explosion So that's the reason WHY? the companies are offering a 4-WAY PROTECTION.
FINALLY, CHOOSE FOR THE BEST BRANDS / GOOD BRANDS DON'T EVER TRY TO BUY THE POWERBANK ON THE LOCAL MARKET / CHEAP PRICE. BECAUSE ALL THOSE WILL DEFINITELY BE A DUPLICATE PRODUCT AND THEY DON'T GUARANTEE YOUR SECURITY/PROTECTION.
Related posts